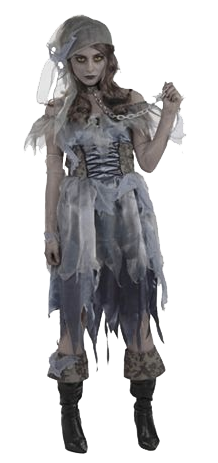 Joining the zombie horde takes a little preparation. You've practiced your glazed stare, perfected your lurch, and memorized your lines ("Argh!" "BRAAAIINS!" and "Urghhhh.") but you still need to look the part. Costume SuperCenter is sponsoring the Richmond Zombie Walk this year, and they've got some excellent zombie resources that we wanted to share with you.
Their Zombie Survival page has everything you need to begin your zombie transformation. Stumbling along in style is simple with one of their ready-to-wear costumes. Every zombie was somebody before the infection, and they have quite a selection of characters, from the creepy-sexy zombie nurses and beauty queens to hilariously horrible undead pirates, rock stars and rappers. There's even a zombie chimpanzee! If old-school gore is more your style, some of the costumes feature gruesome 3D effects like jutting bones and tumbling intestines.
If you're just looking for a few bits and pieces to finish off your look, you'll find masks, prosthetics, properly grave-stained wigs, and other accessories. These glow-in-the-dark maggots are an especially nice touch. They also carry a huge range of make-up and special effect kits—torn skin, rotting flesh, oozing fluids—pretty much every nasty zombie affliction your undead little heart could desire. Best of all, there's a detailed step-by-step video tutorial showing you how to use them to achieve a truly disgusting zombie face. All you need to add is drool.