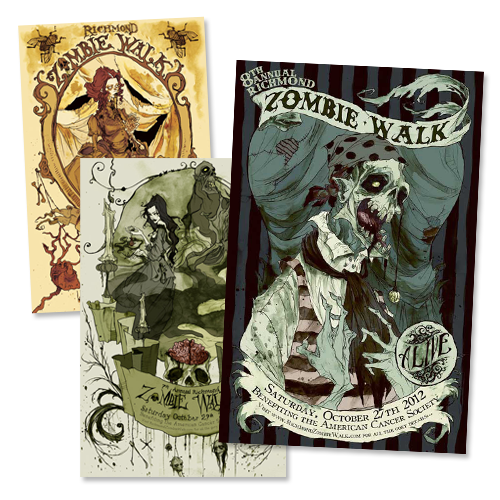 Well, kind of.
For the past couple of years we have been honored to have Abigail Larson create event posters for us. We will be offering you a chance to get a 2012 Richmond Zombie Walk event poster for only $5. The beautifully illustrated gore is printed on a textured heavyweight stock that is fit for framing in its 11″ x 17″ standard dimensions.
In addition to the 2012 poster, we also have a few left over from 2011 and 2010. Complete you're collection for $5 each, but you've got to pounce because we only have a few of these from the past couple of years. As with your donations, all of the profits from the posters go to the American Cancer Society.
But wait, there's more! Want to make that poster extra special? Abigail Larson will be at the pre-walk meet up at Byrd Park's Boat Lake at 1pm to sign posters.
Whew.
Posters, costume contest giveaways, lots and lots of blood.. What's not to love?