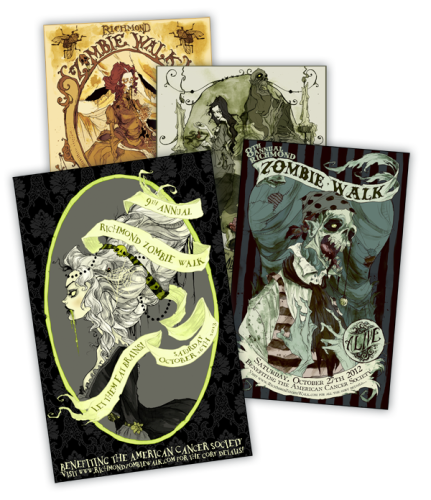 If you've been dragging yourself around with us longer than 4 years, you may remember that we used to hold a poster design contest every year. The winner's art would become that year's official promotional image . We've had great ones over the years, but at the start of the contest in 2010 an early submission from Abigail Larson caught our attention and we've been great admirers ever since.
Abigail has been generous enough to create one for us every year since she won the contest in 2010. You could say she's our Grand Champion. We're proud to feature her work on almost everything we do and because of numerous inquiries we began offering them at each event. The response was tremendous. It became immediately obvious that Richmond also loves Abigail's work.
This year all of the posters from 2010 to 2013 will be available again. If you're brave enough to come to the official event this year on Saturday, October 26th, you can pick them up at the pre-walk meet up spot at The Landing in Byrd Park's Boat Lake starting at 1p (Additional event details). You can get them separately ($5 each) or all of them in a 4-pack ($15). Like our $5 participant donations, all of the profits from the posters will go to the American Cancer Society. Each poster is printed in full color on an 11″ x 17″ textured heavyweight stock which is suitable for framing.
Aaaaand if you don't appear to be a threat to her, Abigail will be attending and will autograph posters before the walk.
Posters are only available on the day of the event and are not available online (yet), but if we have leftovers we'll keep you posted.
In the meantime, tell the world you're feasting on brains with the Richmond undead at our 9th Anuual Richmond Zombie Walk Facebook Event Page and keep up with the latest/last-second details by following us on Twitter @rvazombiewalk.
You can also keep up with Abigail Larson at AbigailLarson.com.
See you at the main event!